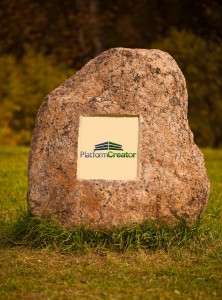 I remember the day, or should I say weeks, when my wife and I went looking for our first home. I loved the really big one with the vaulted ceilings and custom chair and crown molding. And it had a reasonable price tag. "This is the one", I said. "Let's keep looking", she responded. Turns out the one I wanted was a nice home, but was on a very busy street. I'm thankful that my wife guided us to a quieter neighborhood that turned out to be a much better investment.
Build Your House on the Rock
When you are creating your online platform, are you pouring your foundation on rock or shifting sand? If you are running a B2B or B2C, are you connecting with the online marketplace in a meaningful way?
Three items to consider when building your online platform:

1). Consider what value your are bringing to the marketplace.

Are you promoting your business or offering added value? You can do both, but you may only have one chance to make a good impression online and consumers sense when you are pushing to sell them something. So, how do you sell something without seeming to be trying to sell something? If you are selling online, you may try leading with a Free or Low Cost offer that leads to introducing your primary product (E.G. "Free ring resizing" or a gift with purchase that leads to increasing sales of diamond jewelry). This is best applicable to establishing a new online platform or introducing a new product online and it's a good way to collect contact information. If you are blogging, comment on others sites and be an encourager and sharer of good information and offer much more value to others than you expect in return.

2). Get clear about your messaging.

It's important to know how to explain what you do or what you are selling in 15 to 20 seconds. Some call this an elevator pitch. Watch the video  (on this post) for a simple way to get clear about your messaging. People who visit your site will leave quickly if they are not clear about what you do or if they don't see a value in what you offer. Integrate stories and or testimonials into your company and or product messaging.

3). Post relevant and timely content.

If you post new ways to use your product, new products or services, or simply relevant industry news, that is much better than having your latest post be about last year's election. Boar's Head used a clever social media tactic a few years ago, asking people to post stories on Facebook about a time when someone took their food. The winner received something free in return. I don't remember what the free offer was, because that wasn't the important draw. I thought it was a fun and clever topic and it worked for me.

If you are not adding value, not clear about your messaging, and not relevant, your online foundation will crack. People may visit your site once, but will likely never return. You don't have to be perfect, but if you listen to what the marketplace is talking about online and you address the needs of your tribe, they will sense that you do care.

As Jesus said, do not be "like a foolish man who builds his house on the sand. And the rain fell, and the floods came, and the winds blew and beat against that house, and it fell, and great was the fall of it." (Matt 7:26-27).